Home
Welcome to the homepage of the North Central Folk Dance and Song Group.  We are a section of the Camping and Caravanning Club and like to spend our weekends enjoying traditional folk activities such as music, dance and craft.
LATEST NEWS
Update about Autumn Gather at Lyndon Top 
Update from Keith Jackson on 5th September 2021
Hello all
I am pleased to let you know that there has been some relaxation in the Covid restrictions on the Autumn Gather site.
The latest position is that the only remaining restriction is on people sleeping in tents including pup tents.
No problem with trailer tents, gazebos or toilet tents.
It is possible that the tent sleeping may be lifted next week
Please do all that you are able to make this known to your members either by direct contact or website
Stay safe
Keith
Mick Davis 1942 – 2021
It is with great sadness that I have to tell you of the death of Mick, known as Mick the fiddle, on the 3rd June 2021.
Over the years, Mick played his fiddle all over Great Britain and Ireland and most of Europe or sitting on the caravan step lapping up the sun.
We made countless friends and many a child had their first music lesson this way.  Sorry mums and dads!  He was always smiling and happy and one of his sayings was:
"Keep on folking!"
Thank you everyone for happy memories,
Joan and family
Every meet provides opportunities for playing and performing music, singing, dancing and traditional craft activities.  Even if you know nothing about folk music and dance come along and see what we have to offer (there are always people willing to help you get started) or just relax and do your own thing in a lovely part of the country.
Our meets are based at or near a village hall where we hold all our activities.  The hall is often at our disposal for the whole meet and there is always something going on as well as a constant supply of tea and coffee.  Most evenings we have a Ceilidh (often with a live band made up of fellow campers) in the Village Hall or a Get-together on the camp field.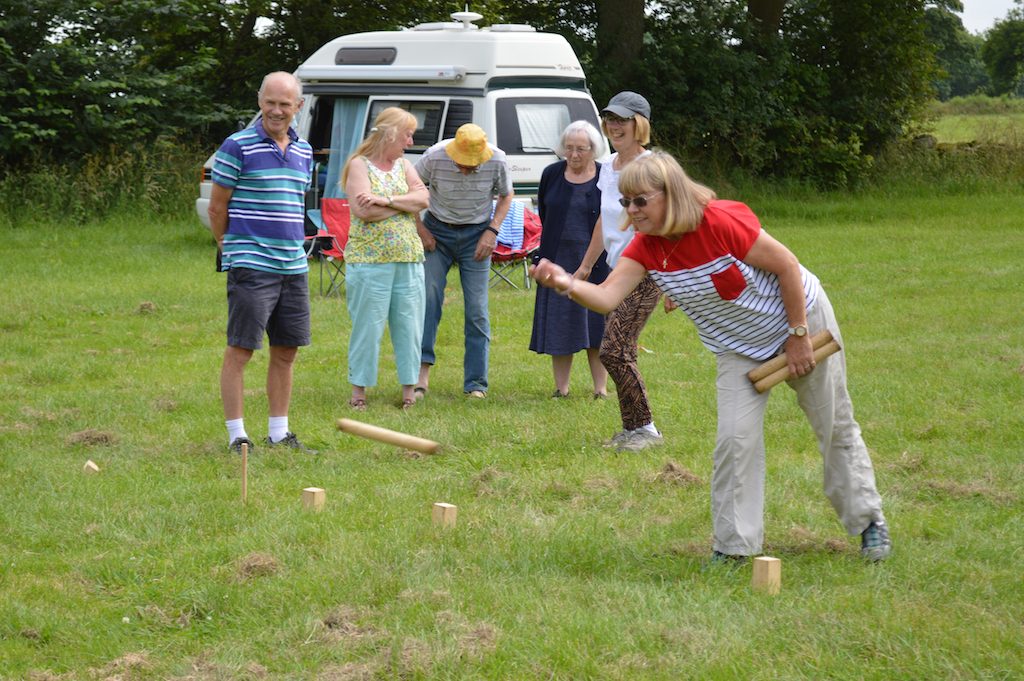 If you are a member of the Camping and Caravanning Club you are welcome to join us at any meet and for a small additional cost of £6.50 per year you can become a full member.
---
This is the website for The North Central Area of the Folk Dance and Song Group which is a special interest section of The Camping and Caravanning Club.