Meet Reports
Abbots Bromley THS – August 26th to September 7th 2021
The weather wasn't that great, mainly cloudy but warm with the odd burst of sunshine, but did not do anything to diminish the great time we all had at Abbots Bromley.
Very many thanks to our Stewards, Richard and Jane and Brian and Marlene for arranging the Marquee and for not panicking when the generator seemed to fade.
Especial thanks again to Brian for the delicious suppers we all enjoyed and to the various club members who kept the morning coffee, evening drinks and biscuits flowing.
On the field four intrepid ladies tried their hands at Badminton, proving the theory of hope over experience. We managed a staggering rally of three shots over the net but failed to get a fourth. Maybe next time!  The ukelele choir strummed merrily and mainly kept in voice, tune and rhythm, we all promised to practise more!
Afternoon and evening entertainment in the Marquee had something for everyone. There was Jenga, plenty of crafting and the musical offerings from the musicians, which proved very popular, with some great songs and guitar playing. The raised voices in the evening over the jigsaw challenge showed that even the best brains amongst us could not always find the right piece for the right 'ole, and there were even more raised voices debating the intricate rules of Rummikub!
Abbots Bromley is a lovely village. Having admired the Horns in the Parish Church, a couple of members discovered the joys and frustrations of Geocaching.
For the uninitiated this is a kind of worldwide treasure hunt played on your mobile phone. Great fun when you find a cache, can add your name to the list and read the comments of those who have been before, but infuriating when you are within a couple of metres and can't find it.
After a glorious 2 weeks of this relaxed and friendly Meet, where some chose to enjoy the 'plentiful' supply of field mushrooms, while others explored the area and it's delights, it was time to say our goodbyes and pack up!  Thank you to all those who took part to make this such a 'fun' event.  We look forward to seeing you all at future Meets!
Thoresby Park – August 5th to 9th 2021
Most of the participants having arrived and set up camp on Thursday, The  North Central Folk Group Meeting, started with a delicious Pasta and Lentil meal for everyone, courtesy of Brian and Marlene. The lone camper had set up her tent with extra tarpaulins against the torrential rain expected overnight and it would have worked well apart from on a midnight trip to the loo when, on opening the tent door she stood up, thus releasing a flood of rainwater collected in the dip in said tarp. However all was not lost as the sun came out and dried everything on Friday and the tarpaulin was pegged down properly with some more heavy duty pegs borrowed from Richard.
Friday morning was spent by a small group of us walking round the grounds of the hall, and visiting some of the shops and the museum in the old stable courtyard. The curator told us all about the fascinating history of the Hall, its occupants and the wars they fought in over the years.
Games on the field in the afternoon lead to the usual cheers and groans.  In the evening some excellent music, calling and dancing at the village hall, every single one of us was so pleased and happy to be back together again.
On Saturday some of us walked to Clumber Forest past the happiest outdoor piggery ever seen. The wallows were pristine, the pigs were rolling around in unctuous mud, their houses were spotless, the straw was first class. It was a pig "Spa".   In the afternoon, more games of Kubb then to the field at the front of Thoresby Hall where the Vintage Car Rally was taking place.  The car "gymkhana" went down very well with the crowd and, after a slow start and lots of heckling from the crowd (who, us??), the vintage cars were put through their paces, as were the drivers who had to drive round a zigzag course, then blindfold and backwards round another.
Another splendid evening of fun and dancing in the hall on Saturday night brought the lone campers weekend to a close.
Ashover THS – July 20th to August 1st 2021
We had a very enjoyable time with a good number of units during the Ashover THS.
The first week we had no rain and it was hot and sunny most of the time.
Many members took advantage of the good weather to go on some of the walks that Brian had printed out which took in the local undulating terrain and lovely cross-country views. Having three pubs in the village serving a choice of food and real ales was most welcome after a day exploring the landscape including the industrial history of the area's old quarries, mines and water mills. The local ice cream parlour in the cake shop just a few minutes walk into the village was proving to be a very popular attraction as well. Following games of Kubb on the field, some evenings were spent sitting out singing and playing music taking advantage of the warm summer evenings.
Knighton – July 9th to 12th 2021
We had a very enjoyable meet with a good turnout at the Knighton Sports & Social Club in July, although the covid restrictions were still in force so we could not use the club room for our song and dancing social activities. The club was open however for drinks throughout the day and evenings which was a bonus. The weather stayed sunny all weekend and there are some lovely walks from the site along the Shropshire Union canal and the large fishing lakes in the Hamlet of Knighton. On Friday and Saturday we had musical evenings on the field until dusk when it was deemed time to retire to our vans or the club bar. The football final was being held on the Sunday evening and the social club invited us to watch the match on a big TV screen set up in the large club room. At the half time break they brought out pizza and garlic bread which helped to ease the tension of watching the match. The only downside to a great weekend meet….England lost!
Copt Oak – June 11th to 13th 2021
The site at Copt Oak was very cosy and one of the first Meets since lock down.  Our stewards made everyone very welcome and provided cakes for all!  They organised field games and led a walk to increase our activity levels to work off the cakes!  We also sat, socially distanced, each day, enjoyed the sunshine and the music played by musicians on the field.  Having experienced a couple more 'Meet' type events put on by different organisations, recently, we realised the music was the main thing that makes our get-togethers so special and we can't wait to get back into the other things that we all enjoy so much, especially the dancing!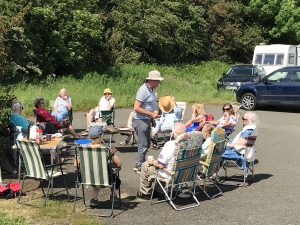 Swythamley – May 28th to June 1st 2021
We had a very good second Meet with 21 units at Swythamley, helped by the sunshine.  We had some glorious afternoons with the sound of instruments drifting across the field.  Several campers played a new puzzle game whilst setting up – where does this awning pole go?  How do I heat the water with gas?  Who was that in the queue for the lone camper's 'loo with a view'!  We were very fortunate in that Janet (Hall Secretary) had provided several local walk guides and maps for us.  The most popular one was to Wincle Brewery, over 14,000 steps and 9.6 K uphill and down dale.  Other walks have wonderful views of the Peak District.
On Saturday morning we had a sheep shearing demonstration in the field next door but the fleeces were going to be burnt as there is no profit in selling them anymore.
So a brilliant few days in the sunshine, meeting up with friends, old and new – Missed some 'Old faces, but they were still thought about – alas no dancing due to the Covid but a grand outdoor celebration for Brian's 85th birthday, postponed from last year.
Offley Hay – May 14th to 16th 2021
Our first Meet of the year at Offley Hay was not that well attended for various reasons and the weather could have been better but it was great to be out in the countryside once more after over a year since our last Meet.
Although we could still not use the facilities of the hall, the adjacent camping field surrounded by trees, provided a secluded setting with plenty of space to keep to our social distancing.
Between the showers we had some lovely walks around Copmere and the local pub was quite busy providing meals and takeaways from a large marquee in their beer garden.
We may also have gained a new member who is a musician and very keen to come to our future Meets, after joining us on his first meet with the folk area, to see what our special interest section is all about.
CHADS – March 13th to 15th 2020
This Meet, after our winter break, was as usual, (but no snow, icicle's or floods around) a very friendly and cosy event!  It was so nice to meet up with our fellow-campers for the first Meet of the season! Thank you to Janet and Paul for all their hard work in making this a lovely weekend.  It started with soup, crusty bread and Janet's 'home-made' cakes!  It was worth coming for those alone! We all contributed to an American Supper (which was delicious) on the Saturday.  We had two evenings of dancing and entertainment, with a few 5 minute breaks on the Saturday evening as members who had planned to come were beginning to self-isolate, at this point, with the coronavirus becoming quite worrying and a risk.  We exchanged our news and recalled the experiences of our winter getaways – at one point a few of us were trying, with limited success, to do press ups, part of a new hobby taken up by me on holiday (& now like new year resolutions made and forgotten after January)  – and Christmas.  We played board games each day, bowls and took part in a quiz.  There was a work shop on the dance, 'Elephant Stampede' – a favourite of our club and we practised some other dances too.   Well, this weekend went so quickly – it always does when you are having fun – and thank you to all those who helped the stewards to make this such a great event.  We do hope our friends who had to stay home and those who managed to attend Chads are now able to keep safe and well, planning to camp again when the danger of the coronavirus has left us all.  We are thinking of you all!
Hough – November 15th to 17th 2019
Another popular location with stewards, Sheila (her first time) and David – newly married!  They gave us all a pre-Christmas Meet and a true N. Central warm welcome to those members who arrived and made this lovely venue their home for the weekend.  There was a good turnout and we all made sure we had our dancing shoes, instruments and coffee mugs etc. before stepping into the hall with its friendly atmosphere, which made all our efforts to get to this Meet so worthwhile! We were fed with some free delicious soup and beef burgers – thank you Brian and Marlene for preparing (again!). We caught up with any news and got into the swing of a very happy 'home-made' fun couple of days.  As usual, a lot of dancing (and laughing) took place and spots were enjoyed.  We had 2 newcomers, one who travelled all the way from 'flooded' Yorkshire' and who couldn't believe 'how good' it was – she kept saying, "this is brilliant" and texted several friends to tell them all about the exciting new things she was doing, e.g. chime bells (Jingle Bells took on a new meaning but 'was alright on the night') and a game called 'Boulas'. Several people were knitting and giving tips on this hobby.  Board games were in progress and 2 puzzles were being completed in one corner.  Christmas music and decorations put us in a merry mood to add to the theme and we had our own Santa who visited us and handed out some attractive parcels to take away and lay under our Christmas trees.  To send us on our way with no need for food for 24 hours, we were treated to Brian and Marlene's 'egg and bacon baps' at a very low cost!  Great memories to take away and we wished everyone a Merry Christmas and a Happy New Year in advance!
Chads – October 25th to 27th 2019
We were back at one of our favourite venues again with our hosts, Pat and Paul.  We began the Friday evening with Brian's pasta meal, followed with an evening of dance and impromptu spots. On Saturday we dressed up the room with an abundance of scary things festooned by trailing spider webs. We also entertained ourselves with craft before supper.  After our supper of fish, chips n mushy peas we indulged in a selection of scary puddings. We then resumed the evening with the Halloween dress parade. A frightening sight to behold, witches, werewolves and monsters lurching around the room – some of the best costumes ever! This was followed by an evening of dancing and entertainments. With so much going on we did not notice how much it had been raining.
On Sunday after Brian's egg n bacon baps and coffee morning, there were no problems experienced on leaving the site with it being all hard standing, although many main roads in the Midlands had reportedly been closed due to floods.
THEN Spooky things happened…..
Fradley – September 20th to 22nd 2019
Another beautiful weekend – weather-wise and the atmosphere!  Many of us managed to arrive at this new site quite early after the official 'start'!  One couple even called in on their tour of this wonderful country, on their way home to North Norfolk, and commented that it was a really good ending to their holiday!  It was great to say our usual 'hello's' and then it was time to set up, find some shade (or sun if you were sunbathers), walk the dog (if you had one) or sit back and enjoy the scenery – all those except our hard-working chefs!
Yes, we were in for delicious soup, beef burgers in buns and fried onions with their special aroma!  All free – a welcome to all so we could start our Meet in a jolly mood, relaxing around the food!
Again, we had some BRILLIANT dances over the weekend and some BRILLIANT spots.  The entertainment started early on the Friday evening (well, a few of us were late as we had to mount the stile – soon solved though) and like a snowball, by Saturday, you couldn't have had a better time at our ceilidh, even if you were on a cruise (at least we weren't all seasick!) – and we had apple pie and cream-thank you Pat and Paul, our stewards for this fantastic weekend!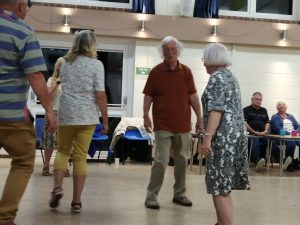 I don't know how many more 'favourite new dances' I have now!  All too soon, time was racing on and it was 'bacon and bap' time (all courtesy of Brian and Marlene) – we were all prepared to shelter under our awning but, low and behold, the rain held off and we sat outside on our sun loungers, laughing, talking and with the uplifting tonic of music and song – as described by one camper – that we had experienced over the last few days – ready to pack up and return another day!
Abbots Bromley – Horn Dance meet – September 6th to 10th 2019
We were very busy from the moment we arrived, to set up tents and caravans the night before we officially started our Meet, and this continued with units quickly filling up our field – a lot of visitors, plus our regulars!
The latter were 'stars' in giving us support and helping us to make 'Abbots Bromley' another fantastic get together.  Thanks to all those who helped to erect and take the tents down, the tea makers, the entertainers, callers, MC's and backing band.   The new comers also got involved, lending us equipment, forming new friendships and taking part in our competitions, evening ceilidhs and 'field life'.  Where else would you arrive and be given a free hot meal of soup, sausages and French stick!
Thank you to Brian and Marlene for doing this and also for the mouth-watering egg and bacon baps which they made on the Sunday morning for a very low cost.  The weather started a little fresh on the Friday but somehow that 'autumn sun' didn't let us down and by Sunday people were out sunbathing, wandering down the country lanes picking blackberries and walking their dogs.  On the Friday night we had tables of people playing Rummikub in our event tents and this followed with people doing puzzles and even a painting group made use of this 'outdoor' room.
Quite a few photos were displayed for the photo competition and we enjoyed the village hall on 2 nights for dancing and spots – including some new talent, provided by our visitors.  The day of the Horn Dance began wet and miserable, as forecast – not so was the 'spirit' of our 'merry band' of campers!  However, we were lucky with the weather for the 'theme' of the Meet, as from midday the rain cleared and the sun came out again!  The musicians amongst us created a band and played under a gazebo on the farmer's lawn while we waited for the Horn Dancers.  We were provided with delicious pork baps and we ate these as the traditional 'ancient' dancing troop was led in by an accordion player.  Most of us had a chance to wander around the village to see the celebrations or join in and others went for a cycle ride around the reservoir but all too soon it was time to say our goodbyes and pack up – thanks to all those who helped us make this a very memorable weekend.
Wellingore – August 23rd to 27th 2019
Another happy crowd of N. Central members + other caravan and camping folk turned up at Wellingore.  Quite a few units travelled long distances to attend our Meet, having had such a good time previously this year, they just had to come back to us – some have been advised to move house into our area to save on fuel and be able to attend more regularly!
The sun shone again, we had a beautiful location (again!), plus enough callers and spots to keep us going for at least a week – but as we were only there for 4 nights, so we had to share what time slots there were available, which meant a great variation of dances and talent, to suit all tastes and abilities, throughout our evenings.
If you have an ocarina, please bring it along and we can continue building up a little group of players which is all good fun, especially for those of us who can't read music but just want to join in.
One visitor said that she had not been excited by a new dance for years and, of course, it was the 'Elephants' Stampede' that caused this comment.  At times our enthusiasm was brimming over and for several dances it was a case of who could be first up on the dance floor!  We even had our own 'Victoria Wood'!
Our coffee mornings lasted all morning because we chatted so much and it was hard to break away for lunch!  We were very lucky to have had craft tables and dance workshops (even if the heat slowed us all down a bit) to fill the afternoons, with some members just looking for any shade to cool down or searching out the local pub for their lunch time BBQ.
Brian and Marlene did their famous meals which gave the Bank Holiday weekend a lovely 'family' feel – all in all, food, music and song were never far away!  Nor were a little family of hedge hogs who visited our unit one night, as we found on our return from the hall.
Some people enjoyed the area and events in Lincoln so much that they stayed on for an extra night, so next year it will be a 5 night Meet.
Thoresby Park – Aug 8th to 12th 2019
We had a good turnout at Thoresby, even after warnings of bad weather!  It was nice to see our guests from The Ridings and other corners of this beautiful land – who wants to go abroad!  This site has a panoramic vista of views – green spaces and magnificent trees, spreading their boughs not only around the estate but framing the Warner Hotel, which resembles a fairy-tale castle.
The warmth we generated with our welcome and 'inclusion for all' policy, resulted in newcomers being eager to come to following Meets to continue building friendships and learning new skills – especially the dancing!  One couple said they'd never come across such a friendly group!  Never before have we been so spoilt with so many callers and such a variation of talent!
A few people experienced a bit of Shakespeare – all tastes were catered for this weekend.  The rain and wind (the gale-force wind!) did arrive, our caravan rocked, but somehow we were lucky because it didn't stop us doing anything; we just grinned and carried on – we are hardy campers!
We had Brian and Marlene's lovely meal as we arrived – free!  We also had those important tea and coffee mornings – on the field – and most of us strolled around the grounds admiring the vintage Morris cars, displayed that weekend, or ate (or tried to eat while being photo'd!) ice creams while enjoying the pleasant sunshine and listening to the band.
Thank you to Brian and Marlene for the stewarding, again, and their scrumptious egg and bacon baps!  Oh well, here's to the Meet at Thoresby Park next year when the Morris Rally is planned to be larger because it will be a special anniversary.
Ashover – July 12th to 15th 2019
The meet got off to a great start sharing Brian's soup and beef burgers, many of us went back for second helpings, resulting in a very pleasant evening spent sitting around chatting.  Ashover is a lovely walking area for the more energetic among us.
The camping field offered relaxing surroundings, being able to watch the cricket being played in the next field.
With the weather being kind we were able to take part in games on the field with tea and much chatter all around.
The ice cream shop in the village was well sought after. The last evening we all gathered in Paul's awning, swapping stories of past adventures and a little bit of singing to end our stay.
Those that attended enjoyed it so much that we've booked it for a temporary holiday site next year so more people can experience this beauty spot.
Cannock Wood and Gentleshaw – Jun 7th to 9th 2019
This was our first visit to Cannock Wood and although small in number, we braved the elements to enjoy a good weekend.  If you enjoy the excitement of snow, hurricanes or deluges, choose the meets that Janet and Paul steward.
Despite incessant rain during Friday and until Saturday afternoon, the field stayed firm and access on and off was not a problem.  Brian laid on his Soup and Sausages to warm us up on Friday evening – followed by some enjoyable dancing.
Saturday dawned very wet – so 'Coffee on the Field' became 'Coffee in the Van'.  The rain eased a bit after lunch and 3 intrepid walkers did a walk across the heathland.  Our 5 visitors from Midlands spent the day geocaching (and in the pub) and came back looking very wet.
It was intended that 'afternoon cream tea' would be a 'summery' affair on the field but common-sense meant that this was moved indoors.  Soup and Afternoon Cream Tea seems a funny combination – but was welcome given the weather.  More dancing followed in the evening.
The sun shone for us on Sunday so Coffee was taken on the field making a lovely relaxed to the end of the meet.
It was an enjoyable meet and thank you to all who came and made it a success; especially those who helped in many ways.
Paul and Janet
Swythamley – May 24th to 28th 2019
Well, it was back to Swythamley again, the sequel if you like, to Seagrave.  Quite a few of the same nice folk turned up again to this brilliant, pretty, very green location with its panoramic view – a very nice place at this time of year to see all the sheep with their lambs and to go on some very enjoyable dog walks.    Right from the beginning this, again, turned out to be another fantastic Meet!  Brian and Marlene came up trumps with their catering again this weekend!  These surprise meals cannot be advertised in case our Master Chef and his apprentices are otherwise engaged.  We all contributed to an 'American Supper' – always a good social event.  Several people set off on a long hike but got side-tracked by the microbrewery at the bottom of the hill or was this their intended destination?  During this weekend I thought I was at sea as the rain continued to hammer on the caravan and sometimes was accompanied by a strong wind but when the sun came out the bad weather was soon forgotten and who needs good weather when we have such a lovely hall to use.  By the way, we now have a new demonstration dance 'Spiffin' – do come along and join us!  The weekend went so fast I couldn't believe the time went so quickly and it was polished off with a rendition of, which has become Swythamley's signature tune, 'Swing Low Sweet Chariot' with all the actions and tremendous applause!  My husband and I started our 'journey' with the folk song and dance society 6 years ago at Swythamley and we've not looked back!
Some good dancing
and good music
all rounded off with Michael and Steve leading 'Swing Low Sweet Chariot'       
and various attempts to get the actions right!
Seagrave – May 3rd to 7th 2019
I must say the Seagrave Meet, this time, has been one of the most well attended and successful Meets we've held!   Brian and Marlene provided their 'warming' pasta meal as we arrived on the Friday and their wonderful 'bacon & egg baps' to see us off on the Sunday morning!  The weather was mostly dry but cool.  However, the atmosphere was 'electric'!  We had a fantastic variation of talent and the hall rocked with laughter – both at the hilarious comedy portrayed by the 'artists' and the fun we had with the dances we did.  Some people did workshops and managed to do a demonstration dance – a dance I can't wait to do again, the Elephant Stampede (my new favourite dance!)  The garden games were played inside with great enthusiasm (it being warmer inside!). Also, played inside were the usual board games, art, puzzles (one member even stayed late one evening, wearing a head torch as he was so keen to finish the puzzle), plus a couple of us had a go at the dancing 'jig dolls'.  That was fun!  Well, new people arrived and new friendships made, hoping to meet again at future events.  You could say the 'follow-on' to this long, lovely weekend is Swythamley!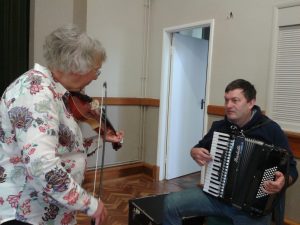 Folk Group Easter Meet – Kempston, Bedford – April 17th to 22nd
Lots of us (at least 19 of us) from North Central spent Easter on the Folk Group Easter Meet.
We had superb summer weather and a fully packed programme over the 4 days.
Across the groups, we did a wide range of activities including:-
Various different genres of folk dancing
Various singing sessions including Skiffle, 60's songs, shanty and sing arounds.
Crafts including pom-pom pets, card making, meccano
May Pole Dancing
Belly Dancing
Circle Dancing
Archery
And lots of nattering and drinking tea/coffee in the sunshine.
The link below shows the Circle Dancing workshop that Paul and Janet went to.
Fulford – April 5th to 7th 2019
Fulford was a picturesque site for our second Meet of the season.  We had a good number of units and a lovely hall for dancing, spots and all day use.  Over the weekend lots of activities went on, including: painting, puzzles, board games, music making and 'very important' those tea/coffee and biscuit get-togethers!  Brian & Marlene did us proud with their hot dogs and crusty bread on the Friday night.  We all sat down for an 'American Tea' on the Saturday and then (a lot of eating goes on in our club!), before we left on the Sunday, we were spoilt with the famous 'bacon & egg baps' just so we didn't starve on the way home!
CHADS – March 15th to 17th 2019
Our first meet of the year and our AGM weekend.
The section got the new camping season off to a flying start with this meet at CHADS.
All hardstanding and a cosy hall are the key requirements for early or late season meets.
18 units braved the high winds on Friday and settled into the weekend with games, crafts and general natter in the afternoon followed by Irish Stew provided by Brian and Marlene – there was enough to feed the 5000 and it came out again for lunch before the AGM.  The evening then followed with some good dancing and spots.
When Saturday dawned, it was even more windy but this didn't matter.  Once again, a relaxing morning in the hall with everyone doing a variety of activities.  The AGM and Members' Meeting were dealt with just over 1 hour in the afternoon – allowing more 'cosy time' in the hall – with the rain now hammering on the windows.
An American supper was shared followed by a St Patrick's Day themed evening with green costumes and an Irish flavour to many of the spots.  All too soon, it was time to close the evening and off to bed.
Sunday arrived sunny and bracing (some would say cold) – but at least the rain had gone away.  Brian provided his Breakfast Baps which was followed by a final tea / coffee before making our way home.  Thanks Brian.
It was a lovely weekend and thanks to all those who helped to make it a success by either just coming along or actively participating in activities.
—————————————————————————————————————-
2018 MEETS – see separate page on menu